PET SHAMPOO (tea tree oil & peppermint).....THE BOOKER BAR!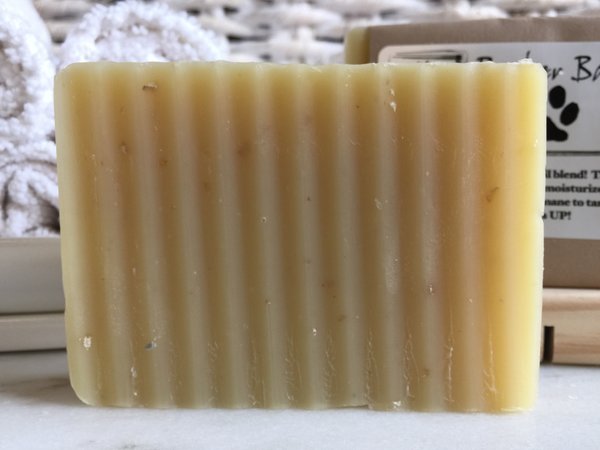 PET SHAMPOO (tea tree oil and peppermint)….THE BOOKER BAR!
If you've never used a pet shampoo bar before, be prepared to be amazed! Our Booker Bar is an all-natural 11-oil blend. Yes! 11 different pure oils! This bar was created to clean, condition and moisturize. And it sure will! Ingredients, you ask? Like our people bars, the Booker Bar contains olive oil, coconut oil and palm oil. We also added in avocado and neem oils, shea butter, and then some…… It also has oatmeal, tea tree oil and peppermint!
The Booker Bar is all natural and all good! It has great full frothy lather! (Created for Booker – one tough mane to tame!)
Our customers rate it 4 paws UP!
To Use:
1. Wet fur
2. Rub fur with shampoo bar
3. Massage into rich lather
4. Rinse
MADE IN: Texas
MADE OF: Pure olive oil, coconut oil, palm oil, sodium hydroxide (most people know this as "lye". All soaps are made with lye. It's the combination of oil to lye which is important. Too much lye, and soaps will be drying. We measure ours out to 1/100 of an ounce. No drying soaps here. Plus, we use really good oils!). This bar also has avocado oil and neem oil, shea butter and other wholesome oils. (sorry, we can't give away our secret!) This soap has oatmeal and is scented with tea tree and peppermint oils.
SIZE: 2.5" x 3.5"
WEIGHT: Each bar is hand-poured and cut, and weighs in at about 5 ounces after drying. We extend our drying times, which means, your soap will last a long time! Lather up and enjoy!
JUST A NOTE: Our fragrance and essential oils are plant-based and were chosen because they adhere to the strictest global quality standards.