CHARCOAL + PINK HIMALAYAN SEA SALT DETOX BAR (with tea tree oil!)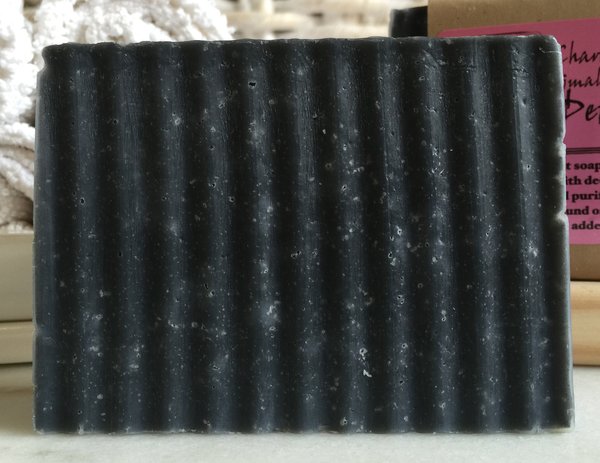 Charcoal & Pink Himalayan Sea Salt DETOX BAR
A great soap for fighting acne! This soap is rich in natural Activated Charcoal and Tea Tree Oil! The true benefit of Activated Charcoal is to remove toxins from your skin. It has the ability to be absorbed into the pores on your skin and draw out dirt and oils that clog and create acne, bumps and blackheads. Because Activated Charcoal removes toxins, it can help reduce the instances of acne and other skin impurities. Also works wonders for removing make-up and eliminating body odors!
Tea tree oil is an excellent treatment for acne. Tea tree oil can also treat minor wounds, encourage healing, and prevent infection.
Himalayan Salt is pure, hand-mined salt found naturally, deep within the pristine Himalayan Mountains. Crystallized over 250 million years ago, ancient sea beds were covered by lava, protecting the salt from modern-day pollution, and lending to the belief that Himalayan Pink salt is the purest salt to be found on earth.
Naturally rich in 84 nourishing and skin-replenishing minerals, bathing with Ancient Ocean Himalayan Pink salt is truly a renewing and therapeutic experience for mind & body. Also known as "Jurassic salt", Himalayan Pink Sea Salt is used by health professionals, spas and individuals who are interested in utilizing natural products to heal the body and relax the mind.
Himalayan Pink Sea Salt's vivid pink color is a result of the trace elements in the salt, including energy-rich iron. These naturally present minerals are believed to be essential for human health, and can be readily absorbed through bathing therapies.
So why use salt in soap? Salt is a natural exfoliant. It allows oils to be readily absorbed into your skin. This bar will cleanse, exfoliate, moisturize and heal skin!
This soap is super moisturizing. Its beautiful color comes from the natural Activated Charcoal!
Hands down our COCONUT and OLIVE OIL SOAPS will rock your world! They wash clean, moisturize and lather GREAT! Go ahead and use our soaps on your face too! We made them for face and body! Packed with Vitamin E they are the ultimate in skin softening, skin healing and cell regeneration.
All of our soaps can be used for face and well as body, and we encourage it!
MADE IN: Texas
MADE OF: Pure olive oil, coconut oil, palm oil, sodium hydroxide (most people know this as "lye". All soaps are made with lye. It's the combination of oil to lye which is important. Too much lye, and soaps will be drying. We measure ours out to 1/100 of an ounce. No drying soaps here. Plus, we use really good oils!). This soap is loaded with all natural Activated Charcoal and Pink Himalayan Sea Salt. Scented with tea tree and peppermint oils.
SIZE: 2.5" x 3.5"
WEIGHT: Each bar is hand-poured and cut, and weighs in at about 5 ounces after drying. We extend our drying times, which means, your soap will last a long time! Lather up and enjoy!
JUST A NOTE: Our fragrance and essential oils are plant-based and were chosen because they adhere to the strictest global quality standards.