LE CAFE FRENCH SOAP BLOCK (about 1.4 pounds!)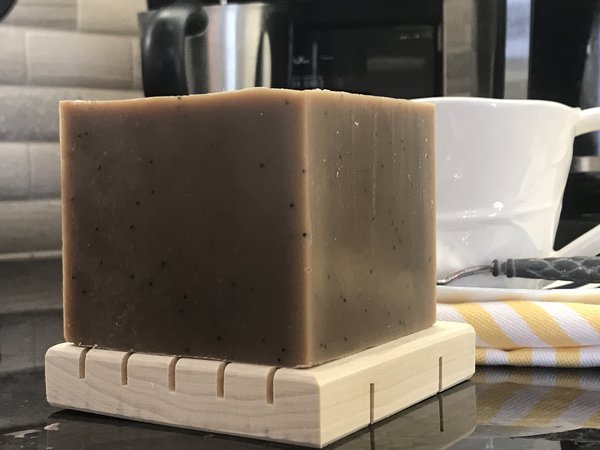 LE CAFE FRENCH SOAP BLOCK
Our inspiration was French espresso at a Parisian sidewalk cafe. Aromatically amazing! We paired scents of espresso with chocolate base notes. And a huge benefit!... This soap block will eliminate hand odors! Bring on the onions and garlic - they are no match for this soap!
These soaps are ultra-moisturizing and great in environments where hand-washing is constant.
Oui! Oui! These French inspired soap blocks are made to just rest on the counter. To use it, rub your wet hand on the cube of soap - no need to pick it up the way you would a traditional bar of soap.
1. WET HANDS
2. RUB SOAP BLOCK! (but don't pick it up!)
3. ENJOY!
These are GREAT for kitchens and bathrooms!
The block is about 1.4 pounds of natural oil soap made from pure olive, coconut and palm oils.
These are VERY LONG LASTING soap blocks! And, like all of our soaps, these are very moisturizing!
Soap dishes sold separately. Works best with Extra Large Woodchuck Soap Dish.
MADE IN: Texas
MADE OF: Pure olive oil, coconut oil, palm oil, sodium hydroxide (most people know this as "lye". All soaps are made with lye. It's the combination of oil to lye which is important. Too much lye, and soaps will be drying. We measure ours out to 1/100 of an ounce. No drying soaps here. Plus, we use really good oils!). This soap is also made with poppy seeds for a nice exfoliation for your hands!
SIZE: 3.5" x 3.5" X 3"
WEIGHT: Each bar is hand-poured and cut, and weighs in at about 1.4 POUNDS!
JUST A NOTE: Our fragrance and essential oils are plant-based and were chosen because they adhere to the strictest global quality standards.