REFRESHING RASPBERRY ALMOND (Our Inspiration!)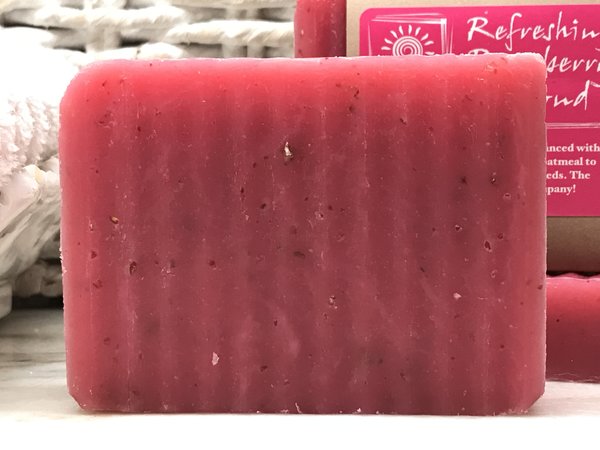 Our Refreshing Raspberry Almond is sweet, exciting and perfectly balanced with added benefits of finely ground oatmeal to handle all of your exfoliating needs. It is the inspiration of The Soap Company!
Oatmeal gently exfoliates and unclogs pores, soothes irritated skin, and retains moisture for soft, smooth skin. It's a main ingredient in our soaps!
Hands down our COCONUT and OLIVE OIL SOAPS will rock your world! They wash clean, moisturize and lather GREAT! Go ahead and use our soaps on your face too! We made them for face and body! Packed with Vitamin E they are the ultimate in skin softening, skin healing and cell regeneration.
All of our soaps can be used for face and well as body, and we encourage it!
MADE IN: Texas
MADE OF: Pure olive oil, coconut oil, palm oil, sodium hydroxide (most people know this as "lye". All soaps are made with lye. It's the combination of oil to lye which is important. Too much lye, and soaps will be drying. We measure ours out to 1/100 of an ounce. No drying soaps here. Plus, we use really good oils!). We also added in finely ground oatmeal, lots of it. Scented with raspberry and almond oils.
SIZE: 2.5" x 3.5"
WEIGHT: Each bar is hand-poured and cut, and weighs in at about 5 ounces after drying. We extend our drying times, which means, your soap will last a long time! Lather up and enjoy!
JUST A NOTE: Our fragrance and essential oils are plant-based and were chosen because they adhere to the strictest global quality standards.