WORKING HANDS BAR - PUMICE + KELP + PUMPKIN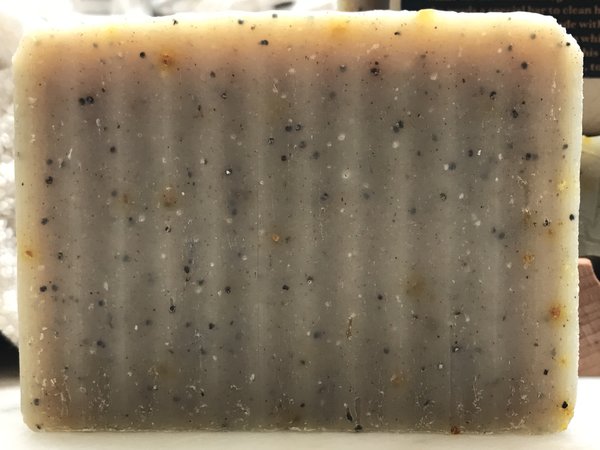 WORKING HANDS BAR! (This soap is packed with antioxidants, Vitamin E and minerals that bring wonderful nutrients to your skin)
We made this bar for the mechanic, oilfield hand, rancher, gardener, field worker, and those who need a special bar to clean hands. This soap is a dirt grabber! It's gritty tough! But, we made it with pumice, kelp and pumpkin to love skin while working hard to clean.
We could have called this one, Gene's Dirty Paw Camo Bar! Because it's used, loved and true tested by a hard-working Texan. PS...thanks, Gene!
Our customers, like Gene, rate this bar two hands up! We think you will too! Recommended for hands.
MADE IN: Texas
MADE OF: Pure olive oil, coconut oil, palm oil, avocado oil, castor oil, sodium hydroxide (most people know this as "lye". All soaps are made with lye. It's the combination of oil to lye which is important. Too much lye, and soaps will be drying. We measure ours out to 1/100 of an ounce. No drying soaps here. Plus, we use really good oils!). This soap is loaded with pumice, kelp, pumpkin, mint, poppy seeds and tea tree oil. Essential oil infused fragrance of peppermint.
SIZE: 2.5" x 3.5"
WEIGHT: Each bar is hand-poured and cut, and weighs in at about 5 ounces after drying. We extend our drying times, which means, your soap will last a long time! Lather up and enjoy!
JUST A NOTE: Our fragrance and essential oils are plant-based and were chosen because they adhere to the strictest global quality standards.